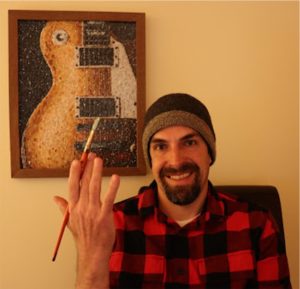 Brad Gates is an award-winning, self-taught pointillism artist focusing on paintings and ink drawings. His artworks consist of thousands of small brushstrokes or pen marks, when viewed from afar present composed images. The artist resides in Blowing Rock, North Carolina.
In his paintings, Brad endeavors to capture, through the interplay of his quickly, yet decisively, applied pointillistic brush strokes and delicately selected colors, the essence of light and the energy of his subjects. In his ink artworks, the artist methodically composes his images through the arrangement and sizing of black circles, with particular focus on shadowing and trompe-l'œil techniques. He derives his inspiration and influences from the beauty surrounding him in the Blue Ridge Mountains as well as from the spirit of Americana.
The artist's "ink pointillism" works are loose stippling artworks. Unlike traditional stippling, which usually consists of tiny pen marks that are tightly arranged to present a crisp image, even when viewed from up close, Gates' ink pointillism pieces involve larger, more spaced-out circles that are carefully arranged by size and placement to reveal the intended image only when viewed from five to ten feet away from the artwork. These pieces are created with Micron pens on archival paper.
Brad's pointillism paintings, on the other hand, rely more on the classical principles of divisionism, whereby relatively uniformed sized brushstrokes of differing colors when viewed holistically present the composed artwork. Often, the artist's works in this style will begin as a "study" that is created digitally on his tablet, which provides a unique and modern approach to the style of pointillism that was originally devised in the late 1800s. The final artworks are painted on archival paper with multiple layers of "points" of acrylic paint. For further texture and color enhancement, as well as to provide additional archival protection, each painting is varnished with gel medium.